MacHash News App Version 7 Released

GlassWave has released version 7.0 of our popular MacHash Apple news app. MacHash aggregates the best of the Apple news and rumor web into one news stream.
MacHash v7 brings a new headline focused design that delivers improved readability. Headlines are always shown in full and are now much more scannable as you scroll through your daily Apple news fix. Improved image clarity also brings a nice effect and aids visual scanning glanceability.
The other main new feature in this update is automatic dark mode. When enabled MacHash will use your broad location to determine approximate local sunset and sunrise times in your area. If it is dark outside, MacHash will automatically enable dark mode and go back to the light theme when the sun comes back up. It can still be toggled manually if you prefer.
How Auto Dark Mode Works
We ask for your location at the weakest range (within 3 kilometers) so as to not need to fire up the GPS sensor in order to save battery. This location is already stored by the phone when it is connected to a cell tower, so only already stored data is passed to the app. We borrowed this technique from Instacast, so if you're a developer check out the open source code for a peak at how we make the switch happen.
Also new in dark mode is that we now use a true black background in dark mode for better dark mode contrast and battery performance on OLED displays.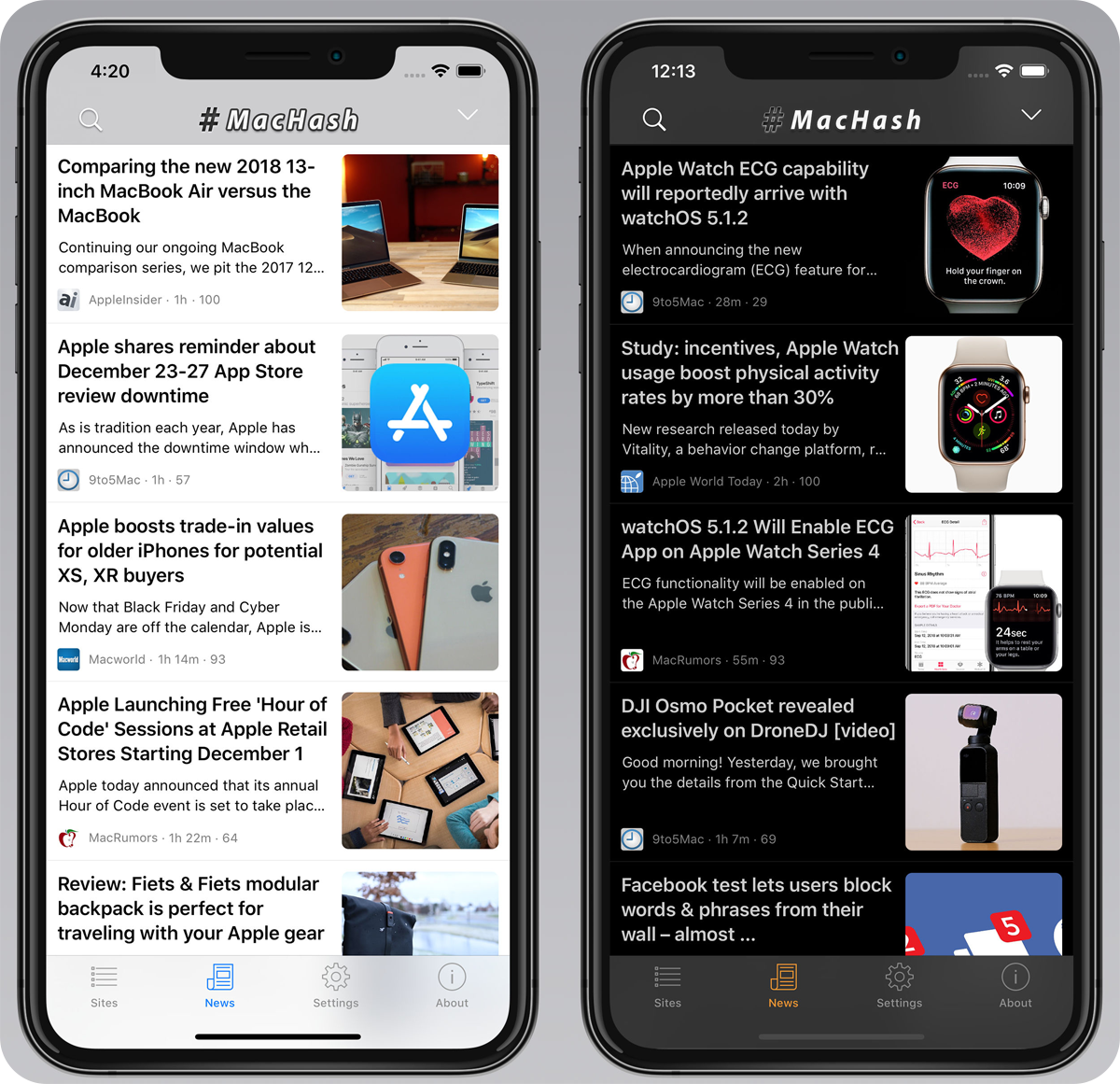 Version 7 brings support for the latest devices including the new iPad Pro models and the iPhone XS Max and XR.
Version 7 also includes a number of bug fixes including a remedy for the post light mercury 500 error so if you had an issue with the reader mode before, it will no longer fail to load an article. We also had to remove some Twitter functions due to Twitter Inc discontinuing their iOS SDK and related APIs.
MacHash News is available now and is a free download from the App Store.