Politomix is a new political news app for iPhone and iPad. Politomix delivers the day's US political news to your iDevice in one real time news stream.
The app combines, categorizes and delivers the news from all sides of the aisle in one convenient location. Enjoy a curated selection of the latest trending articles and exclusive live stream event coverage.
Articles are automatically styled and sorted based on their source's respective general political leanings. Blue represents left wing progressive media sources, black for traditional mainstream organizations, and red for right wing conservative sources. Readers can swipe and scan the latest news and catch up on what's currently trending. Easily share, tweet or Facebook your favorites with the tap of a button.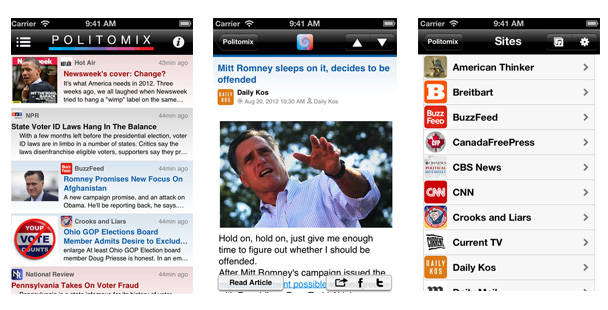 Politomix — the political news wire where left, right and center mix.